You must be a MyPeek member to download our extensibility solutions.
Click here
to learn more about the benefits of membership and find out how to sign up for free.

You must have a valid maintenance contract to download this file.
If you are not a LiveAction Maintenance Customer but would like to purchase a Maintenance contract for your LiveAction product please click here for sales information.
Category : Plug-Ins
Submitted By : Savvius
Downloaded : 1302 Times
Rating : Not Yet Rated
The Traffic Analyzer Plug-in displays port list summary stats for each destination IP address, as well as lists of known and unknown ports, and conversation stats. These statistics can be graphed, alarmed, and output to .csv files to be loaded into Excel, and formatted into firewall rules.
Traffic
The Traffic Analyzer displays each IP address as a separate group in the Summary Stats View. The ports for each IP address are displayed as separate entries under that group. For each port, the number of bytes and packets are displayed. These values can be graphed and alarmed.
Below is a screenshot showing some IP addresses, and the ports listed under them: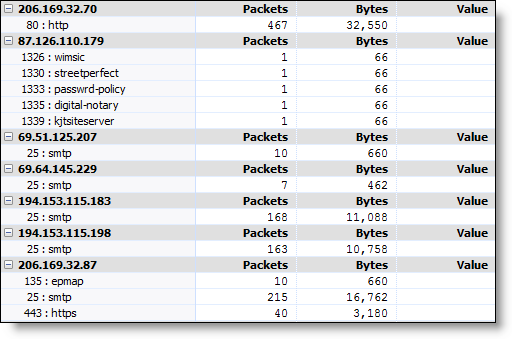 Ports
The Traffic Analyzer also displays known and unknown ports. Known ports are those that are in the OmniPeek NameTable. Below are screenshots showing the known and unknown ports groups in Summary Stats:


Conversations
Last but not least, the Traffic Analyzer displays Conversations, as illustrated by the screenshot below:

Configuration
Each of the stats displayed by the Traffic Analyzer can be enabled and disabled through the Options Dialog: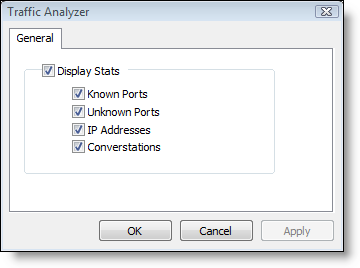 Reports
To output the statistics generated from the Traffic Analyzer in .csv format that can be loaded into Excel, and formatted into firewall rules, simply choose Save Summary Statistics from the File Menu. To create a report, chose Save Report.
History

Version 1.1.1.0 8/12/15
- Built by Savvius for Savvius OmniPeek.

Version 1.1.0.0 2/1/15
- Rebuilt for OmniPeek 8.0. Added support for 64-bit OmniPeek

Version 1.0.0.3 4/5/11
- Fix analyzed packet and byte counts
- Analyze TCP and UDP data

Version 1.0.0.2 3/12/09
- Use lower port as server, not dst port

Version 1.0 3/11/09
- Released to MyPeek

---
Comments
There are no comments for this solutions